Analyzer NIST Calibration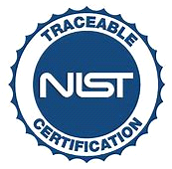 Ozone analyzers (ozone monitors based on the UV absorption method of measurement) should be calibrated annually to maintain proper accuracy. Ozone Solutions has sold and serviced ozone analyzers for nearly a decade and can calibrate your UV analyzer at our full service repair and calibration facility in Hull, Iowa.
NIST Traceable Calibration
All of our calibrations are NIST traceable and come with a calibration certificate for your files. Our comparison standards and ozone calibrators are based on a NIST traceable transfer standard that is calibrated every 6 months. The calibration certificate includes customer information, device information, standards information, environmental testing conditions, as-received data for the device and final data for the device. Further data can be added, if necessary, to meet your regulatory requirements. E-mail us for a sample copy.
Ozone Analyzer Assessment
Prior to calibration, all analyzers are inspected for problems and warmed up for a minimum of 12 hours, then readings are taken to establish "As Received" data. They are then cleaned (internal and external) and flushed to eliminate residue that may interfere with readings. All device functions are checked for proper operation prior to calibration service.
Controlled Environment
Our calibration lab is an enclosed environment that allows us to monitor and control our testing environment. In addition, the use of controlled chambers and high-end ozone calibrators allow for calibration at stable ozone levels.
Analyzer Repair
If our analyzer assessment and calibration process reveals any components that are failed (or are otherwise outside of standard operating specifications,) then those components will need to be replaced before calibration can proceed. In those instances, the customer is notified and a repair estimate is sent for approval prior to that work being performed. See our Ozone Analyzer Repair page for further details.
Brands Serviced:
API-Teledyne
EcoSensors
2B Technologies
In USA
Anseros
Dasibi
Aeroqual
Wedeco
And More