Ozone Monitor Calibration
All ambient ozone monitors sold by Ozone Solutions are shipped calibrated and ready-to-use upon delivery. Calibration certificates are shipped with each monitor. If you receive a monitor without a calibration certificate let us know, we keep copies on file and can get you a replacement if necessary.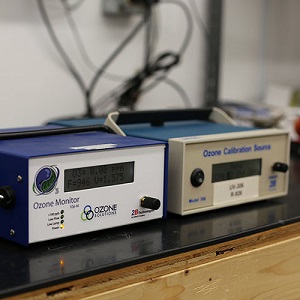 Calibration Frequency
We suggest calibrating all ambient ozone monitors once every year at a minimum. Calibration every 6-months is suggested in applications where accurate ozone measurements are critical. There are different calibration procedures depending on the sensor of your monitor. Many sensors can be replaced with pre-calibrated sensors, but others require traditional calibration with a zero and span adjustment. There is a table at the bottom of this document outlining each monitor we sell and the calibration procedure. If you have any questions about the calibration of your monitor, please contact our office; we will be happy to help.
Checking Calibration
Checking the calibration of your monitor can be done on-site using a variety of methods. Some sensors can be checked with factory provided verification, others can be bump tested to ensure the sensor still responds to ozone.
OG-3 Calibration Checker
The OG-3 Calibration Checker is manufactured by EcoSensors and will work with almost all of EcoSensors products to check their calibration. It is important to realize that this device is not intended to offer a certified calibration or to be used to adjust calibration. This device is only intended to check the calibration of your sensor and ensure it still responds to ozone within a reasonable and acceptable range of measurement. Two ranges are available (0.1 ppm and 1 ppm), so pick the range that best fits your application.
Calibrating Your Monitor
Ozone Solutions offers two basic calibration services depending upon the type of monitor you own. The services offered are described below. To see what your options are, check the table below.
| CALIBRATION SERVICE | DESCRIPTION |
| --- | --- |
| Pre-Calibrated Sensor | Some monitors have a disposable sensor board. This is the most convenient type of monitor. When your annual calibration date arrives, we ship you a pre-calibrated sensor board (including fresh calibration and calibration certificate). You replace your sensor with this new unit and dispose of your old sensor on-site. There is no need to send anything back to Ozone Solutions. These type monitors can greatly reduce downtime compared to other models that require calibration at our facility. |
| Refurbished Sensor Head | Refurbished sensor heads are available for monitors where the pre-calibrated sensor carries a higher cost. This is a common approach with the Aeroqual ozone monitors. This offers the customer a low cost alternative, while retaining the convenience of on-site sensor replacement. With this option, Ozone Solutions can ship a refurbished sensor head to the customer. Your sensor head will be replaced with this refurbished sensor head and the old ozone sensor head must be shipped back to Ozone Solutions for a credit. |
| In-House Calibration | Some monitors do have the capability of being calibrated with an adjustable Zero and Span setting. These monitors can be calibrated to a known standard of ozone produced from a calibration source. For this procedure, they can be shipped back to Ozone Solutions where we will calibrate it to a known NIST standard and supply you with a NIST traceable calibration certificate. Alternatively, these monitors can be calibrated on site by your calibration department, if equipped with the necessary equipment. Over time the sensors used in these devices will become less sensitive to ozone and will require replacement. These sensors can be replaced by Ozone Solutions at our facility or we will send you a replacement sensor and provide instructions for your calibration department to replace and calibrate the sensor. |